Lamella Clarifier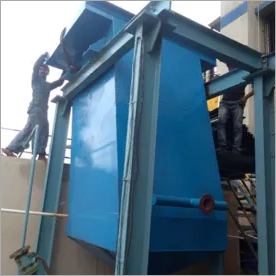 Lamella Clarifier
Price And Quantity
Product Specifications
Product Description
Lamella Clarifier
Lamella settlers are basically cross flow plate separators designed for removal of settleable solids. The water containing solids flow in the horizontal direction between the closely spaced plates in the plate pack. Completely laminar flow conditions are established while the water flows across the plate pack from the inlet to the outlet side.
Solids with the higher density than the carrier fluid will settle down into the sludge compartment of the separator, which is a sloped compartment to facilitate removal of the solid particles.
The number and size of the plates is governed by the water flow rate and the settling velocity of the solids, which in turn are proportional to the diameter of the solids to be settled.
The distance between the plates is depending upon the concentration of solids sludge in the raw water.
The systems are fabricated in mild steel, and the other materials are available on request. The oil separators are standard with oil and skimpipe and 45 degree shaped compartment. The solids separators are optionally with a shaftless conveyor in the sludge compartment.
The plate distance can be varied, usually between 20 and 50mm, to allow for the different sizes of the settling particles, and to prevent clogging of the plate packs.
Lamella Clarifier uses chemical addition followed by three stage flocculation. Coagulant & polymer are injected in to the influent wastewater prior to entrance in to the flocculation zone.
They are often used in primary water treatment in place of conventional settling tanks. Lamella clarifier uses a series of inclined plates. These inclined plates provide a large effective settling area for a small footprint.
AET provides customized lamella clarifier according to client need & availability of space; which can give high degree of separation.
ADVANTAGES
Absence of mechanical, moving parts
High separating efficiency
Ease of Maintenance
Optimization of Treatment plant
The incline of the plates is set between 45 and 60 degrees depending upon the general nature of the Oil and/or sludge. (Density, viscosity, concentration).
| | | | | | | | | | |
| --- | --- | --- | --- | --- | --- | --- | --- | --- | --- |
| Type Pcs. Capacity | 10 | 20 | 30 | 40 | 60 | 110 | 220 | 330 | 440 |
| | 30 | 30 | 30 | 30 | 30 | 30 | 30 | 30 | 30 |
| Effluent Plant Area | 15 | 29 | 43 | 58 | 86 | 157 | 314 | 472 | 15 |
| A-LENGTH mm | 2414 | 2414 | 2414 | 2414 | 2414 | 3514 | 3514 | 3514 | 3514 |
| B-WIDTH mm | 1214 | 1714 | 2214 | 2714 | 3714 | 2214 | 4214 | 6214 | 8214 |
| C-HEIGHT mm | 2490 | 2490 | 2490 | 2490 | 2490 | 3125 | 3125 | 3125 | 3125 |
| D-INFLUENT NW | 80 | 80 | 150 | 100 | 100(2x) | 200 | 200(2x) | 200(2x) | 250(2x) |
| E-EFFLUENT NW | 100 | 100 | 100 | 150 | 200 | 250 | 300 | 400 | 450 |
| F-DRAIN NW | 100 | 100 | 100 | 100 | 150 | 150 | 150 | 200 | 200 |
| G-SKIMMER NW | 100 | 100 | 100 | 100 | 100 | 100 | 150 | 150 | 150 |
| EMPTY WEIGHT | 1500 | 1600 | 1750 | 2000 | 2500 | 2750 | 4000 | 5200 | 6400 |
| FULL WEIGHT | 4500 | 6000 | 7700 | 9500 | 14000 | 15000 | 28500 | 42000 | 55000 |
Applications:
Mineral oil industry
Edible oil industry
Metal industry
Ceramic industry
Galvanic industry
Mines
Sand separation after washing of contaminated soil
Food industry
Trade Information
40-60 Days

Western Europe